Soo.... I went to Montana for a business meeting, and got back early last week.

What an absolutely wonderful place!

Mountains, rainbows, huckleberry lemonade, and best of all.... LOW HUMIDITY!!!!!

When I checked the weather forecast for Missoula, Montana (the city where I'd be staying), the report said that the humidity would be 1o%.

I live on the East Coast. When was the last time that we saw 10% humidity?

Seems we only get a break from that 'fro-inflating weather demon during the fall and winter. Spring can be touch and go, depending on how far south you live.

Out of curiosity, I checked to find out the demographics of Missoula. Seems that in a city of over 57,000 people, only .1% are African-American. That's right, folks. Only 57 people there might have had hair like mine. "Yes, ma'am", I thought. "I guess I'll have to check a bag for this flight, as I'll be bringing ALL of my hair products with me!"

In the picture above, I was at Glacier Park, in the mountains. "Logan Pass" is the name of the peak where I was- 6640 feet above sea level! Yup. I was scared the ENTIRE time that we drove up the side of the mountains. My co-worker marveled at the natural beauty that she could see on her side of the van, while I turned my face to the side of the mountain, and held onto my seat belt.
Some people think that it's cute to drive through CLOUDS. Personally, I think that if you're driving through clouds, you are waaaaaay too high, and outta get down from wherever you are. I don't have wings or fins, so I believe that I should be as close to sea level as I possibly can at all times.

Though my curly knots avoided humidity during the majority of my trip, I couldn't avoid it that day. We had 100% humidity, as it rained during most of the trip to and from Glacier Park. Half way there, when we stopped to buy fresh cherries, I decided to tap into my 3rd world roots, and create a makeshift rain jacket. I secured a large garbage bag, and ripped a hole in it for my face.
It came in very handy once we got to the top of this mountain. It was about 45 degrees up there-- 20 less degrees than at the bottom of the mountain-- and it was raining cats and dogs. I was a little cold, but at least I didn't get wet like the rest of my crew!

Outside of this rainy day, I LOVED how my hair responded to the crisp Montana air!

My hair stayed put much better than usual, and my favorite styling product, Wet-N-Wavy Hair Polishing Activator Gel, did it's thing!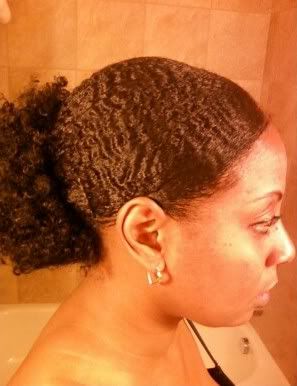 My hair STAYED shiny. Do you know how hard it is to get 4A curly knots to look shiny? I bet some of you do.

So, on a scale from 1 - 10, with 10 representing the best weather for keeping curly knots in shape, Missoula, Montana gets a 9!!!!

The only reason why it doesn't get a 10, is because it's got grizzly bears and cougars runnin' around the place like squirrels. Are you kidding me? I don't know about you, but I'd be willing to give up some good hair days in exchange for a few more years of life.

Happy Hair Lovin',

Karen