Thank you so much for visiting my site!
The idea of "My Curly Knots" came to me a few years ago, when I searched for greater understanding of how to take care of my natural hair.
I had been using chemical relaxers consistently since my teen years, and hadn't seen a full head of my natural hair since the age of 15.
Shortly after getting married in 2003, I noticed that my hair was shedding tremendously, and decided to give chemical relaxers a break, so that I could "start all over" again.
7 months later, however, when I saw how full, thick, and healthy my new growth was, I began the adventure of caring for my own natural hair.
I am a social scientist by nature, and have been fascinated with how my natural hair has been received by those in both my personal and professional circles.
So far, it has been a hit!
I was most concerned with how it would be received at work, since I'd had no examples of African-American women with natural hair to follow.
The journey to learning more about my hair, and finding hairstyles suitable for both work and play has been a joyous adventure.
As such, I've chosen to share what I've discovered here, with you, at mycurlyknots.com.
I hope you learn a lot while visiting, and share what you've learned with others.
And of course, feel free to leave some pearls of wisdom for me, too!
Happy Hair Lovin'...
- Karen
M

any of us wonder why our hair never seems to "grow" as much in the colder months as it does in the summer months.
Sometimes, it's due to our genetically determined hair growth phase. But sometimes, it's due to something else we can't control-- cold or dry weather. These environmental conditions can both can lead to the same problem-- dry and splitting ends. And dry and splitting ends can lead to hair breakage, or the need for more than just a little trim to get rid of unhealthy ends.
So what's the solution to this problem?
There are never any guarantees, but there
are
methods you can employ to lessen your hair's exposure to the weathering elements (no pun intended :-).

Protective hair styles are designed to keep the hair ends hidden. If the cold air and wind can't get to them, then they can't dry them out.
Remember to heavily moisturize your ends, because our coily hair shaft makes it difficult for our natural oils to get to the ends of our hair.
Use a thick moisturizer, like Miss Jessie's Curly Buttercreme, or Blended Beauty's Happy Nappy Styles, to saturate your ends.
Then style your hair in a fashion that will keep those ends hidden.
Individual twists put in a bun

Extensions (as long as you use a braid spray or oil spray)

Bantu Knots

Hair pulled back into a bun (longer hair)

Hair pulled back into a little poof tail, and covered by a "bun cover" (like my picture above)

Braids beaded at the end (as long as you use a braid or oil spray to keep the ends conditioned)
If you live on the east coast, you may not have to worry about the dry weather much longer, as spring is coming, and therefore the HUMIDITY is sure to follow.
At that point, we'll have a whole bunch of other hair issues to tackle. But that's what keeps us busy, right?
I am smitten... with Solange Knowles hair!
It's so beautiful. What a way to make a statement! When she used to wear her hair in long weaves, she always struck me as a not-so-mirror image of her sister. She looked just enough like Beyonce, and just enough NOT like Beyonce, to be constantly compared. I couldn't see her as an individual.

But by shaving her hair, she's brought her own unique facial features to the forefront. And because she's in such great shape, everything falls into proportion from head-to-toe. I'd dare say that she's looking semi-supermodelish in this picture. And unlike in other photos, I believe that she stands out here far more than Beyonce.

I'm definitely not about inspiring sibling rivalry here. After all, I have a BEAUTIFUL sister that I love with all of my heart, and envy has never come between us. But I think that it's great for Solange that ordinary folks like me can now look at her without thinking of her sister first. She's her own person, and her hair and style truly reveal that.

One of these days, when my hips are under control again, I may try rockin' a super short 'do myself. What do hips have to do with hair, you may ask? Proportion, that's what. Like I mentioned above-- since Solange is in great shape, everything falls into proportion. When you shave your head, you're hiding nothing. If you've got a bobble head or a peanut head, it will be on display for the world to see. And what drops you into either category is how the rest of your frame lines up in proportion.

Do you remember how strange Oprah looked back in the day when she lost all that weight? It wasn't that she was too skinny. It was that her head looked huge in comparison. Bone structure is no joke, folks. Take that into consideration when you choose your style. If she'd had a super short hair cut when she revealed her new body, who knows? But that's just my speculation.

I have a peanut head, so my theory is that I need a peanut body to match if I want to show that head off to the world (figuratively speaking). Otherwise, I will be shaped like a diamond-- wide in the middle. No, thank you! Just like there are jeans to compliment every shape, there are hairstyles that can do the same.

What do you guys, think?


-Karen
Soo.... I went to Montana for a business meeting, and got back early last week.

What an absolutely wonderful place!

Mountains, rainbows, huckleberry lemonade, and best of all.... LOW HUMIDITY!!!!!

When I checked the weather forecast for Missoula, Montana (the city where I'd be staying), the report said that the humidity would be 1o%.

I live on the East Coast. When was the last time that we saw 10% humidity?

Seems we only get a break from that 'fro-inflating weather demon during the fall and winter. Spring can be touch and go, depending on how far south you live.

Out of curiosity, I checked to find out the demographics of Missoula. Seems that in a city of over 57,000 people, only .1% are African-American. That's right, folks. Only 57 people there might have had hair like mine. "Yes, ma'am", I thought. "I guess I'll have to check a bag for this flight, as I'll be bringing ALL of my hair products with me!"

In the picture above, I was at Glacier Park, in the mountains. "Logan Pass" is the name of the peak where I was- 6640 feet above sea level! Yup. I was scared the ENTIRE time that we drove up the side of the mountains. My co-worker marveled at the natural beauty that she could see on her side of the van, while I turned my face to the side of the mountain, and held onto my seat belt.
Some people think that it's cute to drive through CLOUDS. Personally, I think that if you're driving through clouds, you are waaaaaay too high, and outta get down from wherever you are. I don't have wings or fins, so I believe that I should be as close to sea level as I possibly can at all times.

Though my curly knots avoided humidity during the majority of my trip, I couldn't avoid it that day. We had 100% humidity, as it rained during most of the trip to and from Glacier Park. Half way there, when we stopped to buy fresh cherries, I decided to tap into my 3rd world roots, and create a makeshift rain jacket. I secured a large garbage bag, and ripped a hole in it for my face.
It came in very handy once we got to the top of this mountain. It was about 45 degrees up there-- 20 less degrees than at the bottom of the mountain-- and it was raining cats and dogs. I was a little cold, but at least I didn't get wet like the rest of my crew!

Outside of this rainy day, I LOVED how my hair responded to the crisp Montana air!

My hair stayed put much better than usual, and my favorite styling product, Wet-N-Wavy Hair Polishing Activator Gel, did it's thing!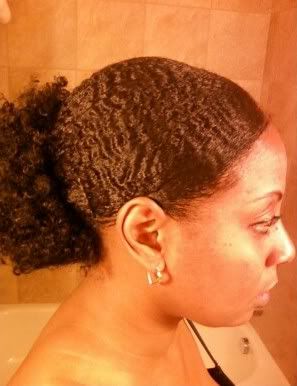 My hair STAYED shiny. Do you know how hard it is to get 4A curly knots to look shiny? I bet some of you do.

So, on a scale from 1 - 10, with 10 representing the best weather for keeping curly knots in shape, Missoula, Montana gets a 9!!!!

The only reason why it doesn't get a 10, is because it's got grizzly bears and cougars runnin' around the place like squirrels. Are you kidding me? I don't know about you, but I'd be willing to give up some good hair days in exchange for a few more years of life.

Happy Hair Lovin',

Karen
T
he devil really didn't want me to make it to church yesterday. How do I know? Because when it was time to get ready, I fell into a hair trance. Even though I knew that I had only 1 hour to get the family prepared, I decided to wash my daughter's hair. And with that, of course, came the dilemma of "quick" styling. Instead of just binding those whooly little coils into puff tails, I chose instead to try curling it with the curling iron-- something I had promised her I would do for church one day.
So, 1 hour later, I finally got finished with her hair. My son laughed, and said that she looked like her teacher. Then he said that she looked like their grandmother. He pretty much told her that she looked like every older black woman he knew. My daughter said, "Don't do my hair like this for school. Because everyone's going to be asking me about it". She's 5, by the way.

So, as I was searching the closet for a headband to put on her head, I had to ask myself, "Why did I do that?". Sure, she had asked me about wearing her hair curly, since she'd seen another girl at her school wear her hair like that. But I know better. I know that my daughter's hair is more similar to my hair than to that of the little girl at school with the thick luscious locks that don't 'fro out at the slightest humidity.

Once the headband was on, it looked O.K. I tried not thinking about the 87 degree temps, and the 65% humidity that was about to undo EVERYTHING I had spent an hour doing.

And then it was time to do my hair. Oh heavens...

Church started at 11:30 am. It was now 11:35 am, and I hadn't done a thing to my own head yet.

I had washed my hair the night before, blown it out, and then made chunky twists all over my head. Now, had I planned to wear a twist out on Sunday morning, I would have taken more care in the neatness and tightness of those twists when I put them in on Saturday night. But since I hadn't, a twist out was not going to work.

It was now 11:45 am.

I had to think fast. I remembered... "When all else fails, run to the wig box!!!"

So as fast as I could, I dug through every hair piece that I had.

I had to find something that I could maneuver quickly, because it was getting later and later.

I finally fished out some of my 1/2 wigs that had a roller set look. I tried finding the LEAST shiny one, considering that one of my pet peeves with weave wearers is the horrendous non-matching texture look. Nothing screams hair disaster more to me than seeing the obvious line between someone's natural hair and that of their weave, extensions, or hair piece.

I put the 1/2 wig on, then quickly curled the front of my hair. All the while I kept saying to myself, "This is a disaster. I hope the curling iron's not too hot. This hair doesn't match. I should do something else. But, I'm late for church. But I can't go with my hair lookin' like this. Get THEE BEHIND ME SATAN!!!!"

So yes, ladies. For Jesus' sake, I ended up going to church with the dreaded 2 different hair textures screaming from my head.

I arrived at church at 12:25 pm, with my head hanging down.

My hubby was helping with parking that day, so of course I had to see him as I rolled up at the 11th hour. Once parked, I came up to him, tucked my head in his shoulder and said, "I'm so embarrassed!". He said, "Me, too!", then laughed with me.

The last 1/2 of the sermon was really good. I can see why the devil didn't want me to make it that day. But God had the last laugh! I made it to church, AND I got my blessing. And the fact that my black scarf was tucked in my purse for a humidity emergency helped, too.

By 2:30 that afternoon, my daughter looked like she belonged on a public service announcement for needy children. Her curls were afro chunks lined with dust, thanks her wild behavior in the carpeted playroom. When all was said and done, the headband had moved from the middle of her head, to her forehead-- holding back absolutely nothing.
She was happy as a clam.
Mm. Lesson learned.

Happy Hair Lovin',

Karen
HAIR ELASTICITY

Hair elasticity is the measure of how much a hair strand will stretch before breaking, or how much it will stretch and still be able to return to its original state.

When healthy hair is dry, it will only stretch about 20%. But when wet, it can stretch up to 50% (Tightly curled hair can appear to stretch further).

Hair that has high or normal elasticity will provide the greatest ease in styling. Hair with low elasticity however, won't hold a curl very well, whether by roller set or curling iron, and won't respond favorably to chemical styling.

Ionic (or "salt") bonds and hydrogen bonds are the chemical bonds that contribute the most towards hair flexibility and elasticity.

Ionic bonds are most easily affected by pH levels, but hydrogen bonds are most easily affected by moisture and heat.

When you wet your hair, your hair appearance changes because the hydrogen bonds have temporarily broken. If you let it air dry, the bonds will reform as is- poofy, poofy for us curly knotted folks.

If you set your hair on rollers, or wrap it under a dryer, however, your hair will reform hydrogen bonds in its new shape. And until moisture is reintroduced, it will maintain that new shape.

So when you're rocking your twist out or roller set in the a.m., and find that it's reverted to an afro by the p.m., try to see the glass as being half-full. At least your hair is doing what it's supposed to do-- responding to moisture, and reforming the hydrogen bonds that were temporarily broken.

Sometimes, when excessive heat is used, disulfide bonds are also broken. These are the bonds that give hair its tensile strength and curl pattern, and typically don't break unless chemicals are introduced. But beyond a certain heat index (which is different for each person), disulfide bonds can be broken, and the hair will not revert to its prior state.

So for those of you who have found that after months of using the hot comb or flat iron, you have some straight ends or strands that won't curl anymore, now you know why!

HAIR GROWTH

If you're like me, you've probably wondered at times why it is that some people's hair seems to grow like weeds, while other people's hair seems to be on strike. The hair growth cycle has 3 phases:

Anagen- The Active Growing Phase

This phase can last between 2-6 years. 85-90% of the scalp hair is in the growing phase at any given time. The length of the growing phase is genetically determined, varies between different people, sexes, and ethnicities, and is the basis behind a hair's growth potential.

Scalp hair grows at an average rate of about 1 cm per month (or 28 days), but growth rates can also vary slightly amongst different people of different backgrounds. Some studies have already shown that African hair grows for less time and at a slower rate than Caucasian hair.

Catagen- The Intermediate Phase

This phase lasts between 2-4 weeks. In this phase, the follicle detaches from the dermal papilla, and starts moving toward the surface of the scalp.

Telogen- The Resting/Shedding Phase

This phase lasts between 2-4 months. 10 – 15% of all hairs are in this phase at any given time. This is when the hair follicle rejoins the dermal papilla, and a new hair is formed. Once the next anagen phase begins, the new hair will push the original hair out of the way, if it hasn't already been shed.

FINAL LESSON LEARNED

As a whole, people of African descent have thinner hair strands, with less thermal stability, that are more prone to breakage, and grow at a slower rate, for less time, than people of Asian and Caucasian descent.

At first glance, you may be tempted to think that the Africans have gotten the short end of the stick. But that's not true at all!

What this information shows us is that our African hair is its own unique entity, and needs to be catered to and tended to like the precious delicate gift that it is.

And because most of us don't have pure African heritage, our hair can be expressing any number of ethnic tendencies at one time, even if we don't realize it at first glance.

Maybe this is the reason why your 3C hair operates a little differently than your friend's 3C hair.
Your 3C hair could have the thinness of your blond Caucasian ancestors, but the growth phase of your African ones. Your friend's 3C hair could have the thickness and strength of her Asian ancestors, and the growth phase of her European ones. But since both of your curl patterns look the same to the naked eye, you thought that your hair could be treated exactly the same.

Knowing about these underlying differences should be a source of EMPOWERMENT.

If your hair never grows past your shoulders, maybe now you know why! And instead of trying to beat it and grease it into submission, maybe now you can love it for the spiraled free spirit that it is, and start getting to know it intimately again.

Experiment with products that are meant for African textures. Experiment with natural hair styles. Figure out what styles you can wear in dryer seasons/climates, but might not be able to wear in more humid seasons/climates (hmm... a press and curl comes to mind).

Sometimes your hair doesn't cooperate because you haven't been taking care of it, and you need to nurse it back to health. But sometimes it doesn't cooperate because it just isn't meant to, man! It just may be your attitude about your hair that needs the fixin'.

I hope that the "All Curls Are Not Created Equal" series has been helpful to you! It's been fun writing it. I'm going to kiss my 'fro goodnight, now.
Happy Hair Lovin'!!!!
-Karen
HAIR TEXTURE

Straight. Curly. Wavy. Kinky. These are the words that used to come to my mind when I thought of the term "hair texture".

Once I started this hair research journey, however, I learned that my terminology needed some tweaking.

"Wave pattern" is a more appropriate term for describing the visible shape of a hair strand. This is where Andre Walker's hair typing labels would come into play- 3A, 3B, 4A, etc...

"Hair texture" is actually the term used to describe the circumference of a hair strand. This is where the descriptions coarse (thick strands), medium (normal strands), or fine (thin strands), would come into play.

Coarse hair generally has all 3 structural layers-- the cuticle, the cortex, and the medulla.
It is the strongest type of hair, and tends to resist breakage and chemical processing. Asian hair is generally described as coarse, as it has the widest diameter. (While you can be of any race and have coarse hair, the geometrical shape of the cross-section of your hair will vary, dependent on your race, and will contribute to your hair's integrity-- more on that later.)

Medium hair also has all 3 structural layers, generally speaking. This is what would be described as "normal" hair. There are no special considerations to be made for styling normal hair. It is responsive to heat and chemical styling, but is not overly prone to damage. You can be of any race and have medium or normal texture hair.

Fine hair usually has only 2 of the structural layers-- the cuticle and the cortex. This is the weakest type of hair, easy to chemically process, but more susceptible to heat, traction, and chemical damage. As discussed in my last post, the function of the medulla (the innermost portion of the hair) is not yet well understood. However, you can understand how its absence contributes to the relative weakness of fine hair compared to medium or coarse hair. You can be of any race and have fine hair, though blond Caucasian hair tends to be the finest.

It is possible to have all 3 hair textures in different sections of your hair.
There is nothing you can do to permanently change the texture (diameter) of your hair.

Thickening shampoos deposit product that will temporarily adhere to your hair, giving it a thicker appearance.

Henna binds to keratin in the hair, and can also temporarily make it thicker, though repeated use can maintain the thickness (but it can also lead to brittle hair if you don't deep condition regularly).


The Cross-Section

Now, while there is a visible shape to the hair strand (the wave pattern), there is also a shape to the hair strand that is not visible to the naked eye.

This is the shape of a cross-section of the hair shaft.


http://www.optics.rochester.edu/workgroups/cml/opt307/spr06/xue/project.htm
Asian hair, which generally has the thickest diameter, has a circular cross-section. This shape is usually consistent throughout the length of the hair strand, contributing to its strength and ease in grooming.

Caucasian hair has an elliptical cross-section. This shape is also consistent throughout the length of the hair strand, contributing to its strength and ease in grooming.

African hair has a flatter elliptical cross-section than Caucasian hair (not so easily seen in the image above), and can be flat like a ribbon in some sections, especially where the hair bends and kinks. This variety of diameter and shape along the hair strand contributes to the vulnerability of African hair, rendering it more susceptible to grooming damage than Asian or Causcasian hair.
Because of all of the bends and twists in African hair, it also has a tendency to fold over on itself, creating.... ya-ta-ta-TAAAA.... CURLY KNOTS!!!

What? Did you guys think I made it up? Well, so did I! That is, until I came across this image...

http://www.pg.com/science/haircare/hair_twh_76.htm
The caption beside the picture literally read, "Knotting associated with African hair".

Well, ya don't say?

Raise your hand if you needed a microscopic photo to tell you that you have curly knots.
I didn't think so.

HAIR DENSITY

This term simply describes the number of hair strands on a person's head, or per square inch.

The average human head has 100,000 hairs, or 2200 hair strands per square inch.

Interestingly, studies show that races with thicker hair diameters (Asians) tend to have lower hair density, and races with thinner hair diameters (natural blond Caucasians) tend to have higher hair densities.

I guess the overall look of our hair was meant to "average" out. Neat, isn't it?

There is nothing you can do to change the density of your hair, other than getting hair plugs (youch!). Extensions and a GOOD weave can also lend to the appearance of denser hair, as long as bad styling doesn't overshadow it.

HAIR POROSITY

The term "hair porosity" refers to the ability of your hair to absorb moisture.

Hair is naturally porous, allowing moisture to come in and come out through the cuticle layer. Hair can be described as having, low, normal, or high porosity.

The cuticle should normally lay flat, with a slight bending at the edges, to faciliate normal moisture exchange.

If the cuticle is compact, the hair may not absorb moisture easily, and may be resistant to heat and chemical treatments. If the cuticle is raised too much (highly porous hair), it will absorb or lose moisture too readily, and may be overly sensitive to heat and chemical treatments.
The goal is to have hair with normal porosity, so that it will maintain an adequate moisture balance.

A quick porosity test- pull a couple of hair strands from different parts of your hair, and then drop them in a cup of water. If they sink within 5 - 10 seconds, then your hair is overly porous (mine hasn't sunk more than an hour later. I don't know if that's really good, or really bad. But it was a lot of fun to watch it curl up on itself after 10 seconds or so)

If the hair is highly porous, the use of protein treatments and/or an acid balanced shampoo can help. Don't overuse protein treatments, however, or your hair will get "crunchy" and brittle. (The Aphogee Two-Step Protein Treatment, for instance, should be used no more often than once every 6 weeks).

Phew!!!

I'll give you guys a break for today. We'll pick up on hair elasticity and summarize all of this hair science in part 4 of "All Curls Are Not Created Equal".

Till then,
Karen